Wayward Son by Rainbow Rowell
Genre: Adventure, Fantasy, LGBTQ+, Funny, Romance
Format: Book, E-Book, Downloadable Audiobook
Plot: A continuum of the Carry On series, our group is now on a road trip, in America! However, wherever Simon goes, trouble seems to exist, and this trip is no exempt. New threats are facing the magic world, and Basil, Penelope, and Simon are there to receive the brunt of it. Follow along this high-paced magical tale and watch as new secrets come unraveled and relationships grow stronger in the 2nd book to this beautiful trilogy.
Review: This was one of my favorite books ever! I love the dialogue between characters and seeing the characters grow more mature. Rainbow Rowell's true representation of the traumatic consequences of their adventures is amazing which is a real refresher in comparison to other books. I recommend this to anyone who enjoyed books like Six of Crows or other YA fantasy books. The fandom itself is wonderful! #snowbaz!!!
Rating:
~Kayleigh, Teen Book Reviewer
The Hidden Oracle by Rick Riordan
Genre: Adventure, Fantasy, Greek Mythology
Format: Book, E-Book, Downloadable Audio Book
Plot: This book is about Zeus sending Apollo to Earth in mortal form even though he is a god and is immortal. He wakes up in a alleyway of New York City then checks his drivers license and Apollo sees he has the name of Lester. Two thugs come up to him and try to mug him but he gets saved by a girl named Megan. Apollo does not know what's happening so he goes to Percy Jackson for some advice. Then Percy Jackson leads them to Camp Half Blood and Apollo explains the situation to the leader of the camp. Then there is a race located in the Labyrinth the biggest Maze known in Greek Mythology and that is where the plot twist happens.
Review: My opinion about this book was that it had a very interesting plot twist in beginning. This makes readers want to read more to know how the antagonist is going to handle the situation; I really like when books do this. I think other teenagers will enjoy this book because it wants to make you read more and more till the end. Mostly I would recommend this to people who liked the book "The Lightning Thief" or people who like Greek Mythology.
Rating:
~Jonathan, Teen Book Reviewer
Infiltration by Sean Rodman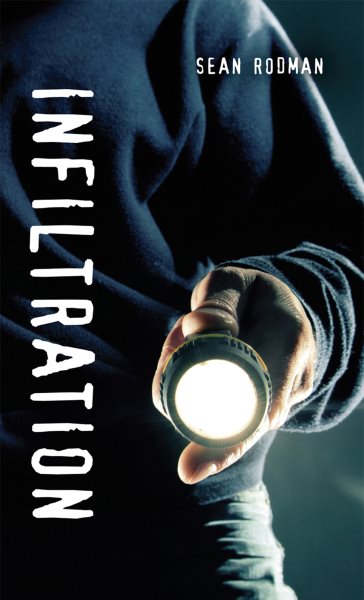 Genre: Adventure, Fiction
Format: Book
Plot: Bex is a young boy who has a personal hobby of urban exploration, or exploring abandoned buildings. Things go downhill for Bex when he makes friends with a boy named Kieran that moved from another school. Kieran is a troubled kid who has gotten in big trouble in the past. When Kieran finds out who Bex is, they instantly become friends and they talk about what Bex does. However, things go really badly quickly when Kieran reveals a grand scheme, which involves stealing, something that Bex doesn't want to do when urban exploring and after that, its really up to Bex as to what he does.
Review: This book wasn't really exciting to enjoy. The ending of the story was very bad and was very anti climatic. The plot was interesting at first, but then it got really confusing at times. It also felt really short and I probably wouldn't recommend this book.
Rating:
~Allison, Teen Book Reviewer
Divergent by Veronica Roth
Genre: Adventure, Dystopian Fiction, Science Fiction
Format: Book, E-book, Downloadable Audiobook
Plot: Sixteen year old Tris begins life in her new faction. She is alone, navigating and fighting her way to stay in her new home. When things finally seem to settle down, she makes a few friends and tries to keep them from learning her secret.
Review: This book is incredible. It has so much adventure and suspense. I think other teens would enjoy this book, and after they finished they can watch the movie too. Also, if they really like it there are two more books in the series. I would recommend this to someone who likes dystopian novels and maybe anyone who read the Hunger Games series.
Rating:
~Sarah, Teen Book Reviewer
The In-Between by Barbara Stewart
Genre: Adventure, Horror
Format: Book
Plot: Elanor, Ellie for short, and her family were moving to a small town in the Poconos. On their way there, a car came flying down the mountain and crashed into their car, Elanor was pronounced dead at the scene of the accident. In one world, known as the in-between, her father survived and she meets a new friend named Madeline. Elanor wants a new life but being haunted by Madeline, she doesn't show who she really is to others. Madeline is ruining her life, until she's not.
Review: I personally loved this book, the chapters aren't long and you never know what is going to happen next. Although quite gory sometimes, I never wanted to put the book down at night. I would recommend this book to anyone who likes twisted stories that don't make sense until you finish it. It's not too long of a book either so its an overall fun book to read independently.
Rating:
~Khrystyna, Teen Book Reviewer
Want to see your teen's book reviews here? Have them fill out our Teen Book Reviewers Request Form. Three hours of community service available for each review; up to three reviews a year.