YALSA (Young Adult Library Services Association of the American Library Association) released the best audiobooks for young adults and you can download them right off our Libby app! Here are some off of the list:
Cemetery Boys by Aidan Thomas
A Good Girl's Guide to Murder by Holly Jackson
Raybearer by Jordan Ifueko
When Stars Are Scattered by Victoria Jamieson
Omar and his younger brother, Hassan, have spent most of their lives in Dadaab, a refugee camp in Kenya. Life is very tough there but one day Omar is given the opportunity to go to school and the chance to change their lives.
Clap When You Land by Elizabeth Acevedo
Stamped: Racism, Antiracism, and You: A Remix of the National Book Award-Winning Stamped from the Beginning by Ibram X. Kendi and Jason Reynolds
For even more titles click on YALSA's website here!
What Teens Are Reading
Hey, Kiddo by Jarrett J. Krosoczka
Genre: Funny, Nonfiction, Graphic Narrative, Memoir/Autobiography
Plot: The graphic novel Hey, Kiddo is about the childhood and adolescence years of the author, Jarrett Krosoczka, as well as the family history of his parents and grandparents. The story, told from the first person perspective of the author when he was younger, shows the difficulties of growing up without a father and with a mother that is an addict. Since his parents were mostly out of the picture, Jarrett grew up in the house of his grandparents, Joe and Shirley, who grew to become his real parents. The memoir demonstrates impactful themes on the past: facing it, letting it shape who you are as a person, and striving to be a better person because of it. As well as the past, family is another important theme, telling the significance of making a family out of not only the people that are related to you, but all who love you.
Review: I thoroughly enjoyed the book and the story that it told. The reason why it was so incredible was the fact that the whole book was a true story and strayed away from what I conceived graphic novels to be: more fictional. Other teens will most certainly enjoy the book because it is easily relatable on so many subjects such as addiction, family issues, and just being a kid with hopes and dreams. Even though the topics were emotional and sensitive, the author still found ways to have comic relief, which creates a young view and in a way, can connect with more people in this age group. I would recommend this book to all teens, but more specifically, ones that may have faced challenges in their life and this story will make them know that they are not alone.
Rating:
~Noah, Teen Book Reviewer
Tears of a Tiger by Sharon M. Draper
Genre: Fiction
Format: Book, Downloadable Audiobook
Plot: The book was about a high school boy named Andy that was dealing with the stress of an accident that killed his best friend. One night after a basketball, he and his friends decided to drink and drive, and Andy was drunk, which ended up to him crash and his best friend dying.
Review: I didn't really like the book since it connected way too well with reality. I think other teens would enjoy the book since it is easy to connect well with. I would recommend it to my friend, Maggie.
Rating:
~Phoebe, Teen Book Reviewer
Renegades by Marissa Meyer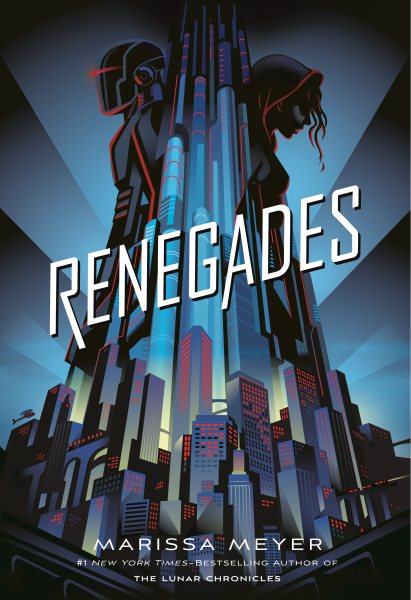 Genre: Adventure, Fantasy, Paranormal Fiction, Science Fiction
Format: Book, E-Book, Downloadable Audiobook
Plot: Ace Anarchy caused Prodigies (humans with special abilities) to rebel and the world was in anarchy. The Renegades stopped Ace and restored government. Nova is an Anarchist (people who sided with Ace during the Age of Anarchy) who hates the Renegades. Her father promises they will save her; however a short while later, her family was murdered and she is the only survivor. She vows revenge after the Renegades didn't save her family with other Anarchists.
Review: I liked the book because of the action and suspense. I think other teens will like the book if they enjoy an action-filled science-fiction book. The worst part of the book is the fact that it is a cliff-hanger. There are two more books in the series.
Rating:
~William, Teen Book Reviewer
Chain of Iron by Cassandra Clare
Genre: Fantasy, LGBTQ+, Historical Fiction, Mystery
Format: E-Book, Downloadable Audiobook
Plot: As the second book in the Last Hours series, Chain of Iron continues on the story of the London Shadowhunters in the early 1900's. Cordelia and Lucie are best friends, and seem to be living the dream now that they are together and Cordelia is engaged to her true love, James. Except, there is trouble brewing. Lucie is slowly giving up any hope that she can revive Jesse, and Cordelia's marriage is arranged; James is in love with someone else. Along with this, something is killing the Shadowhunters of London, and James starts getting dreams of these murders. Cordelia and her friends have to find out who this mysterious serial killer is, but can they connect the events before the murderer gains too much power?
Review: I did enjoy this book and thought it was a satisfactory sequel. Though it is a long read, the story just seems to fly by. While there is less action than in the other book, this book has many of the little scenes and details the story needs. I definitely think others will enjoy this book, and recommend it to any lovers of Shadowhunters or YA fantasy in general. The storyline is complex and the character arcs are written very well. Check out the first book of the Last Hours series (if you haven't yet), Chain of Gold.
Rating:
~Natalia, Teen Book Reviewer
Rebel Spy by Veronica Rossi
Genre: Adventure, Historical Fiction
Plot: Franni Tasker runs away from her evil stepdad to a new life. She pretends to be Miss Coates for 3 years. There she makes friends and becomes engaged to a British lieutenant. She feels like she is missing something so she accepts a position as a rebel spy. Her life turns when her old love Asa Lane comes into it. She becomes a real spy for George Washington; she feels more alive when Asa is around; and her soon to be husband is away.
Review: I loved this book! It pulled you into another world. It was thrilling to read about a girl not even 18 doing so much and risking her life. It had great plot twist. I loved how it was based off a true story. I would recommend this book to any one who likes historical fiction.
Rating:
~Izabella, Teen Book Reviewer
Mystery Books for Grades 2-5
Do you like to read mysteries and solve crimes? If you do, here are some of my favorite mysteries that you would enjoy reading too.
King and Kayla and the Case of The Unhappy Neighbor by Dori Hillestad
Thor has been accused of wrecking Mr. Gary's yard by knocking over trash cans, and eating vegetables out of the garden. King and Kayla with the help of their neighbors are determined to clear his name by utilizing their detective skills.
Big Bad Detective Agency by Bruce Hale
The Prince accuses the big bad wolf also known as Wolfgang of destroying the houses of the three little pigs. He is the only suspect in the case and he does not have an alibi. He claims he is innocent and he has the 4th little pig, Ferkel help him find the person who was responsible for destroying their houses.
The Haunted Library: The Ghost Backstage by Dori Hillestad
Kaz and Claire have their own detective agency. Their latest case is the hardest case that they have to solve together. Claire's classmate told them that he saw a ghost backstage while he was rehearsing for the school play. Kaz and Claire go to the school to investigate. Kaz believes it's his mom based upon the description that the boy gave her. Kaz and Claire search everywhere, but they can't find her. The mysterious ghostly activities are still happening.
The Great Shelby Holmes by Elizabeth Eulberg
Shelby Holmes is nine years old, four feet tall, and the best detective her Harlem neighborhood has ever seen – always using logic to solve the toughest crimes.
When eleven year old John Watson moves downstairs, Shelby finds a friend. Easy-going John isn't sure of what to make of Shelby, but he soon finds himself her most-trusted partner in a dog-napping case that'll take both their talents to crack. – Good Reads
The Critter Club: Amy and the Missing Puppy by Callie Barkley
It's Spring Break in Santa Vista, and everyone has big plans except for Amy. Her best friends head out of town on exciting adventures, and Amy is helping out at her mom's Vet Clinic. At least she'll be around cute animals! However, when Santa Vista's millionaire, Marge Sullivan brings her puppy Rufus for a check-up, Amy encounters an unexpected mystery. After her friends return home, the girls get to the bottom of what happened to Rufus and discover a way to help other lost and lonely animals in their town. – Good Reads
West Meadows Detectives: the Case of Maker Mischief by Liam O'Donnell
Myron, the third grade detective who loves logic, facts, and solving mysteries, gets the chance to crack another case when he finds out his classmate Jordan's robot has been stolen. Jordan and tech-savy Danielle, known as "Glitch" had been working on it for weeks for the upcoming Maker Faire Robot Maze Challenge.
Together with his detective partner, the hyper-energetic Hajrah, Myron pins down two suspects: Sarah "smasher" McGintley, the school bully, and Lionel Amar, another robot builder who was caught with Jordan and Glitch's plans. After they investigate the case further, they find out the thief is someone entirely unexpected. – Good Reads
Escape From Mr. Lemoncello's Library by Chris Grabenstein
Twelve kids are invited to spend a night at a new library created by a game maker, Luigi Lemoncello. This book is full of adventure as the kids try to solve the clues and escape from the library.
If you liked these mystery books, check out the A to Z Mysteries, the Ballpark Mysteries, the Nancy Drew Diaries, and the Encyclopedia Brown Series. These books are available in our Children's Collection.
Interactive Books for Ages 3-5
Little one not as into reading as you'd like? Turn story time into play time with these wonderful interactive picture books!
Need more recommendations? Stop by the Children's Room for more interactive picture book fun.
What Teens Are Reading
Check out this review from one of our Teen Book Reviewers.
1984 by George Orwell
Genre: Adventure, Dystopian Fiction, Science Fiction
Format: Book, Ebook, Audiobook
Plot: This book is about a man named Winston that lives in a world with little freedom. The ruling party has made it illegal to protest, write, speak or even think negatively against them. Winston is a low ranking party member that has saw how terrible the party is from the inside. He meets a women named Julia and joins an organization called the Brotherhood that has the goal of taking down the ruling party.
Review: I like the book because it brings light to a world without the basic freedoms we have today. It shows how the world would be if only one view was allowed to be thought and spoken. Other teens will probably not like this book unless they like and understand a general knowledge of politics.
Rating:
-Jonathan, Teen Book Reviewer

Want to see your teen's book reviews here? Have them fill out our Teen Book Reviewers Request Form. Three hours of community service available for each review; up to three reviews a year.
Manga
Hi I'm Ms. Charlotte and Manga is one of my favorite types of books. In conjunction with reading a traditional novel, I usually read a manga series at the same time. I've always enjoyed being exposed to the Japanese culture and the unique art style. But besides finding it enjoyable, did you know that reading manga is beneficial for your brain? Manga actually requires you to have a different set of skills than reading traditional books. Besides challenging your brain to read from right to left, mangas have more images and fewer words (Rozema, 2015). Did you know that mangas also have several layers to each story? They contain: images, words, Japanese onomatopoeia, and their own visual language. When you put these all together "…even proficient readers of English- who …have been socialized into more traditional…storylines- may find manga, as we do, to be a challenging read (Schwartz, 2006). This means reading manga can be fun, but it also exercises your brain!
Here are some great mangas for grades 6-12 to download from Libby or Overdrive to get you started!
Rozema, Robert (2015) Manga and the Autistic Mind. English Journal. 105 (1) 60-68.
Schwartz, Adam & Rubinstein-Avila, Eliane (2006) Understanding the Manga Hype: Uncovering the Multimodality of Comic-Book Literacies. Journal of Adolescent & Adult Literacy 50 (1) 40-49.
Truly Devious by Maureen Johnson
Ellingham Academy was founded by Albert Ellingham in the early twentieth century. It is a private school for the brightest thinkers, inventors and artists. But shortly after it opened, Albert's wife and daughter were kidnapped. The only real clue was a mocking riddle listing methods of murder, signed with the frightening pseudonym "Truly, Devious." It became one of the great unsolved crimes of American history.
Stevie Bell, a new student at Ellingham Academy, believes she can solve this cold case. But she doesn't anticipate becoming part of the mystery herself. Will Stevie be able to solve the mystery before someone else goes missing? Read this amazing trilogy to find out.
Books to Big Screen
It's summertime and that means big blockbuster movies will be released. I know I get excited every time a book gets turned into a movie. I am always curious to see how Hollywood will interpret the book. This year I am looking forward to the movie Artemis Fowl. The movie is set to be released on June 12 on Disney+. If you are a fan of the book like I am, then you won't want to miss this one.
Artemis Fowl written by Eoin Colfer, tells the story of a young boy millionaire who aims to be the greatest thief of all time. But when he kidnaps a fairy, he has bitten off more than he can chew. Holly Short turns out to be no ordinary fairy. She is the Captain of the LEPrecon Unit and these aren't the same fairies we are used to hearing about in bedtime stories. They are dangerous. Artemis Fowl is a great adventure that will keep you on your toes.
There is still time to read or listen to this riveting tale. Click the link below to take you to all the options for digital downloads. https://lindenhurstlibrary.org/digital/
Who was…? What was…? Where is…? Series
These very popular series tell incredible stories of trailblazers, legends, innovators, cool places, and important events.
Click on the link to learn how to download books from Overdrive, https://my.nicheacademy.com/lindenhurst/course/1451
Black Lagoon Series
There's never a dull moment in author Mike Thaler's popular series. Hubie faces everything from everyday problems to menacing monsters in this off-the-wall funny series. The series is written on a 3rd grade reading level, but the wacky humor can be enjoyed by both younger and older readers.
May the 4th Be With You!
What to Say Next by Julie Buxbaum
In this contemporary YA romance we meet total opposites Kit and David. Kit is popular and David is socially isolated. After losing her father, Kit decides to sit next to quiet David and together their lives merge. This book touches on topics such as grief, loneliness, and being on the spectrum. Readers will enjoy the coming-of-age romance between Kit and David as they struggle through their life challenges.
Poached by Stuart Gibbs
"Who stole Kazoo the Koala? That is the question on everyone's mind at Funjungle. In this squeal to Belly Up, Teddy Fitzroy finds himself in the middle of another mystery. This time with everyone believing he stole Kazoo. Will Teddy be able to solve the mystery before it's too late. Read poached to find out
Pete the Cat and the Treasure Map by James Dean
Captain Pete and his crew are going on a seaside adventure to find buried treasure and jewels. On their journey, they encounter a giant sea monster. If you like pirate stories, you're going to love this book. For more stories about Pete the Cat, head on over the Library's Overdrive collection of ebooks and audiobooks. All you need is your library card to sign up.
Learn how to use Overdrive here https://my.nicheacademy.com/lindenhurst/course/1451